Chief Principal's Message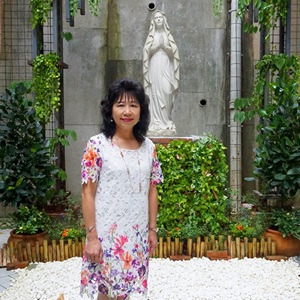 Ms. Louisa Lo  盧詠琴 總校長
3rd September 2018
Dear Parents/ Guardians,
New School Year, New Initiatives and New Vision
          As the new school year commences, I would like to extend my warmest welcome to you all after a relaxing summer when you have had the chance to unwind. I believe both parents and students are well-prepared to start afresh. May I wish you a healthy and fruitful year ahead with your unwavering dedication to our big family.
          It has always been the School's endeavour to promote the holistic development of our students based on the five core values of Catholic education. This year, our major concerns are
To build the character of students by enriching them with the invaluable essence of Chinese culture and cultivating them with the five basic virtues: Kindness, Justice, Courtesy, Wisdom and Honesty (仁、義、禮、智、信), grounded in the core values of Catholic Education (Love, Life, Family, Truth, Justice)
To enhance the critical thinking skills and creativity in Raimondians and foster them to become lifelong self-directed learners
          The Diamond Jubilee celebration was indeed a blessed corroboration of the unity and love of the Raimondi Family. Last year, we successfully carried out the Diamond Jubilee Running to the Peak in November 2017 and the 60th Anniversary Banquet in March 2018, as well as the Diamond Jubilee Distinguished Alumni Lecture Series from April 2018 onwards. The fruition of these events was exemplified by the wholehearted support of our parents, alumni and friends.
       During the summer vacation, I was delighted to attend the Diamond Jubilee Banquet hosted by Raimondi Alumni Association in Toronto. More than a hundred alumni gathered together to celebrate the momentous occasion of their alma mater. They are proud of being Raimondians and are supportive of the collaborative development of the three sections. Some of them would even fly back to Hong Kong to attend the Finale of the Diamond Jubilee Celebration - Thanksgiving Mass cum Open Days during 23rd — 25th November 2018. May I take this opportunity to extend our cordial invitation to you all to participate in this exceptional event.
          As the reputation of our School has been blooming over the past few years, we have won the confidence of parents and gained popularity among the prominent schools in Hong Kong. I am glad to inform you that we have the best intake of our Si students and attained satisfactory DSE results this year. So let's continue to "Persevere in Unity" and "Fly beyond Boundaries!"
May God Bless you all!
Yours sincerely,
Ms. Louisa Lo
Chief Principal