Chief Principal's Message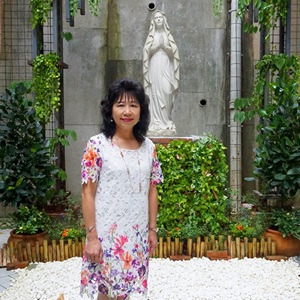 Ms. Louisa Lo  盧詠琴 總校長
1st September, 2016
Dear Parents/ Guardians,
New School Year, New Initiatives and New Vision
        As the new school year commences, may I wish you all a healthy and fruitful year ahead with your continuous dedication to our big family.
        I am deeply honoured to be appointed as the Chief Principal of Raimondi College with effect from 1st May 2016. As it is my mission, my goal and my obligation to be the instrument of God, I will stay humble to work together with my colleagues, to undertake, pass on and promote love and affection in Raimondi College. As the Chief Principal of both the primary and secondary sections, I will do my utmost to foster productive collaboration among teachers and students from both sections, and in the love of Christ, Raimondians can enjoy more coherent, all-round learning experiences under the same school motto, 'Inconstantia Fortitudo'.
        There have been challenges of educational reforms and initiatives in recent years. To cope with such changes, we need to strengthen the administration team of the school. I am glad to introduce to you the three new assistant principals (acting), namely Ms. Chan Yuk Ling, Ms. Hong Man Shuen and Ms. Wu Shuk Heng. Ms. Lau Mei Mei, Principal (Acting), together with the newly appointed assistant principals, will surely create a decent and quality learning environment for the wholesome development of our children under the guidance of our Lord.
        It is tough yet rewarding to be the Principal of Raimondi College. Over the past three years, I have promoted small-class teaching, and in the years to come, I wish to further revamp school facilities. These wildest dreams would not be realised without the unconditional love and generous support from parents and alumni.
        To quote Mother Teresa, 'Not all of us can do great things; but we can do small things with great love.' May we all work together in guiding our students to strive for the betterment of themselves and take great strides in their academic, moral and spiritual development.
Yours sincerely,
Ms. Louisa Lo
Chief Principal
Raimondi College
---
各位親愛的家長:
新學年新氣象 新崗位新動力
隨著悠長的暑假結束,新學年又開始了。本人謹代表高主教書院歡迎 貴子女重臨我們這個大家庭。
本人有幸於2016年5月1日獲校董會委任為高主教書院總校長,定當以最謙卑的心,與一眾同工在愛德中彼此擔待,傳承並發揚中小學部友愛共融、同根同德的優良傳統。無論在課程、學術、體藝,甚至活動上,中、小學部師生將會有更多的接觸機會,相信本校上下將會在基督的愛裏變得更加團結。
回應近年教育政策急劇改變,本人爲了加強小學部的領導團隊,提升教學質素,以適應教育環境的要求,於是邀得陳玉玲、康文璇、胡淑嫻三位資深的主任由本學年開始擔任署理助理校長,協助劉薇薇署理校長帶領小學部發展。本人深信劉校長與她的同工在上主的指引下,定能令小學部在學校行政、學與教效能、品德培育、自由教學等方面,得到突破性的發展。
回顧過去三年,本人任職中學部校長,推動小班教學、激勵中學部教職員士氣、籌集數百萬的改善校園設施基金,深深體會路途艱辛。幸得家長、校友對本校的愛護,我校全體也能依靠上主賜給我們的大愛去行事,現在總算略見成績。不過,本人並不自滿,我會永記聖經的教導:「凡事要謙遜、溫和、忍耐,在愛德中彼此擔待。」(弗 4:2)
真福德蘭修女也曾教導我們:不是所有人都能成就大事,但我們卻能以上主無比的大愛去辦一些微不足道的小事兒。但願我校全體教職員同心合力的工作,能令 貴子女在學業、品德及屬靈上有長足的發展。主佑!
高主教書院總校長
盧詠琴謹啓
二0一六年九月一日